This is the most versatile keto hot dog bun recipe. You can adapt this recipe to make a burger bun and/or a hot dog bun. Or perhaps a sandwich bun. Each bun only contains 3g of net carbs and 9g of protein per bun, and you cannot go wrong with them. It only requires you to shape the dough with your gentle hands and some patience. Nothing special is needed. Go ahead, enjoy the holidays without sacrificing your favorite holiday barbecue foods.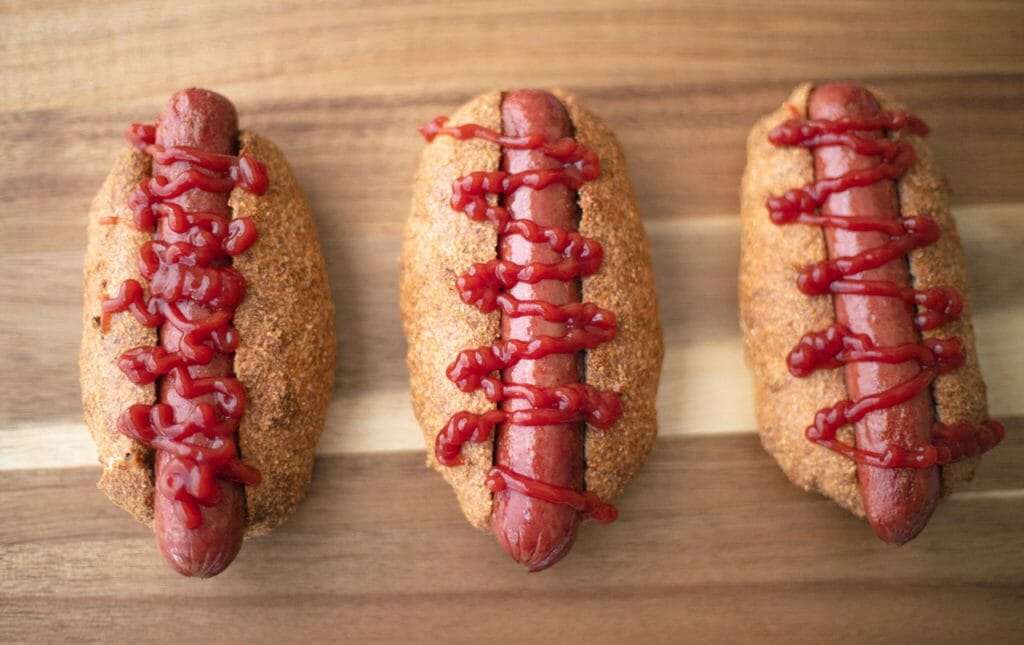 After you remove the bun from the oven, wait at least 5-10 minutes before slitting the bun in half. They are going to be soft and will need time to settle and blow off the steam. Plus, it is going to be a challenge to cut them. Dress the recipe to your heart's content. I like my hot dogs simple with ketchup and mustard. During the making of this recipe, I ran out of mustard. So, I devoured them without adding extra dressings. Enjoy the delicious recipe!
Instructions
Preheat the oven to 350º F

Mix dry ingredients in a bowl

Add apple cider vinegar and boling water in the dry mix with hands

Then add the rest of the ingredients and mix. Don't over-mix the dough. Otherwise, it will become too hard.

Let the dough sit for a couple of minutes so the flours can absorb the moisture.

Separate the dough into 4 equal portions and form a log shape

Place the log shaped buns on a baking sheet lined with parchment paper.

Bake for 25 minutes or until browned.
Notes
*Use a small bowl of oil to prevent the dough from sticking to your hands. 
Nutrition
Serving:
4
buns
|
Calories:
76
kcal
|
Carbohydrates:
12
g
|
Protein:
9
g
|
Fat:
2
g
|
Saturated Fat:
1.5
g
|
Cholesterol:
3
mg
|
Sodium:
650
mg
|
Potassium:
48
mg
|
Fiber:
9
g
|
Sugar:
2.5
g