Well, I really hope blueberries are your favorite, especially wild blueberries. They are one of the highest fruits in antioxidants. Not only will they nourish your body, enhance your brain function and immunity, but they also improve your mood. I recommend all berries to be purchased organic because they are high in pesticides. Unless, of course, you grow your own then please share some.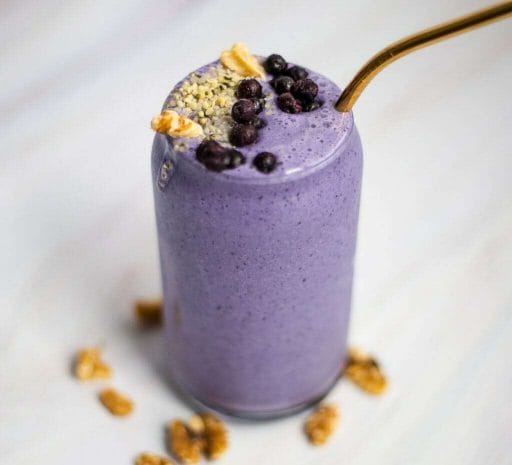 Also, have you tried ripple milk? I am soo in love with it. It is high in omega 3's, calcium, and provides a good amount of protein, especially for being a dairy-free source. Most of all, it tastes delicious. Well, that is important. Of course, you can use any milk alternatives or even milk (preferably A2 grass-fed) or goat milk, if that is what your taste buds and body desires.
Smoothies are SUPER easy and they are the best way to increase nutrients in the body. With the number of awesome ingredients, there are in this smoothie you would think twice about the taste but I assure you it tastes delicious. Now it is low in sugar so a change in taste buds for those just starting to decrease sugar will take some time.
Benefits of smoothing: refers to the act of drinking smoothies (this one is new in the dictionary-created by me)
Smoothies help increase fiber which not only benefits you but also serves as food for your healthy bacteria in the gut. On the plus side, nutrients in the smoothie, due to the blending effect, are broken down from larger molecules to smaller molecules, so your digestive system gets a little break and a nutrient boost.
So, next time you make a smoothie think of all the ways your body will love you. Making smoothies is a breeze if you have the right ingredients. All you have to do is throw in all the ingredients in the blender, blend, and enjoy. Happy Smoothing!
**Note to remember – I like my smoothies with very low and just natural sugar so I do not add any sweetener in it. Feel free to add your choice of fruit to increase the sweetness of your desire.
Ingredients
2

oz

water

1

cup

purple rainbow cauliflower from Trader's Joe

1/2

cup

organic wild blueberries

1

tbsp

walnuts, raw

1

tsp

hemp seeds

2

scoop

collagen peptides
Instructions
Mix all ingredients and to blender except whey/collagen 

After all ingredients are thoroughly blended then add whey/collagen and blend for a few 15 seconds, just enough to mix it.

Simply Enjoy on a ☀️ day!
Nutrition
Serving:
1
g
|
Calories:
286
kcal
|
Carbohydrates:
13
g
|
Protein:
33
g
|
Fat:
11
g
|
Saturated Fat:
1
g
|
Polyunsaturated Fat:
2
g
|
Monounsaturated Fat:
3
g
|
Sodium:
226
mg
|
Potassium:
728
mg
|
Fiber:
4
g
|
Sugar:
6
g